Adrian Jess has gone from selling vinyl records under the nickname the Human Jukebox to packing boxes at the medical goods company where he now works, and then becoming its director of technical services and logistics – but he's still looking to gain that career edge, wrote The Globe and Mail's Report on Business, Nov. 5 2014.
Jess wanted the knowledge, input from business experts and camaraderie of classmates that go along with taking a regular MBA, and his former boss had said the company would have footed the tuition costs. Still, Jess couldn't see fitting MBA studies into his busy personal and work life – not unlike many other Canadians looking to get a foot up in the business world in these time-strapped, financially constrained times.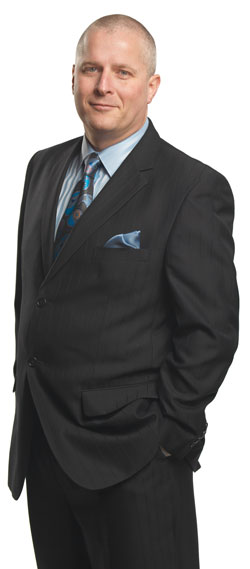 Instead, Jess enrolled in a much shorter and less expensive alternative: a mini-MBA, a fast-growing approach to continuing business education.
"To expand my skills, I've really worked hard and a former boss recognized that," says Jess, who was hired 16 years ago by ConMed Linvatec Canada with just a high-school diploma. "But after going to my [company's] head office in Florida, and after talking to a few people, I soon realized I'd be stuck if I didn't do more, but the time frame for a full MBA is pretty daunting – you need to commit, and if you still need to keep a full-time job and keep your family going, it would be pretty hard."
Right: Adrian Jess
Jess has taken numerous courses – in strategic management, logistics and critical thinking, for instance – at the Schulich Executive Education Centre (SEEC), the open enrolment division of the Schulich School of Business at York University. At 49, with funding from his employer, Jess started the Schulich Mini-MBA: Essentials of Management program last April and completed it in June, earning a certificate. A top-ranked MBA school (with tuition of about $32,905 this fall/winter in the two-year full-time program), Schulich this year began offering its new Mini-MBA through SEEC at a cost of $9,250. "I found it [the Mini-MBA] to be for myself, personally, probably just right," says Jess, noting students attend nine days of classroom time, and work on their own and in groups.
Besides coming with often strict education and test requirements, and attracting enrolees typically five years into their careers, MBA degree programs are among the most expensive at the post-secondary school level – annual tuition averaged $24,168 for 2013-14 in Canada (with EMBAs, geared to students who are more established in their careers, averaging $35,889), according to Statistics Canada. EMBAs averaged $35,899.
What participants in the Mini-MBA program are saying about the course.
Mini-MBAs, on the other hand, are typically non-credit certificate programs and commonly condensed versions of MBAs that aim to improve business and leadership skills in areas including short- and long-term planning, marketing, managing financial resources, conducting negotiations, human resources and technology development.
Some business schools, like Schulich, have designed their mini-MBA programs as an appetizer for a full MBA.
"The mini-MBA is our recognition that our executive audience has changed, and is demanding more sophistication than was the case in past years," says Rhona Berengut, director of Schulich's Mini-MBA program, which has MBA program faculty as its instructors. "All the courses in the mini-MBA are taken directly from the Schulich MBA program – we want students to not only get the flavour of the courses, but also the faculty from the business school as well."
Referring to Mini-MBA students such as Jess, she says: "A lot of people, especially those who are sort of two-thirds of the way through their careers, and feel stuck and don't know what to do, they want to brighten the lights, if you will, of their careers – they want to shine a little differently and don't want to go back to school [for a full MBA].
"Both [the MBA and mini-MBA programs] are very interactive, there's a project, discussions, simulation – that is the kind of education that gets you thinking on your feet, sharing ideas and learning from your peers."
For Jess, the project he completed in a group with four other students, in the Mini-MBA class of about 35, taught him skills he has brought into his job at ConMed Linvatec, a provider of sports medicine and orthopedic products.
Members of each group were given the task of assessing a microbrewery's current business strategy and whether it could be improved over the long term. Jess was then chosen by the group to present the project before a panel that included Berengut, Alan Middleton, SEEC's executive director and the former head of marketing of a brewery.
"To this day, overall, it has just opened up my mind to take a bigger view of your business, because sometimes you can make decisions in a bubble," Jess says of his Mini-MBA experience.
"One of the things in health care is you're always under the microscope, so hospitals are constantly trying to find ways to balance budgets and cuts," he adds. "We also go against a lot of competitors, going through requests for proposals. Right now, we're working on one proposal that's almost provincial in size. … Some of the things I learned from [the Mini-MBA] course, I have started applying them, since we had to forecast using budgets for our company 10 years from now."
Jess, for one, says completing his mini-MBA isn't the end of the business education road. He has already signed up for another course at Schulich in the new year. "And the thought of an MBA is still kind of out there for me."